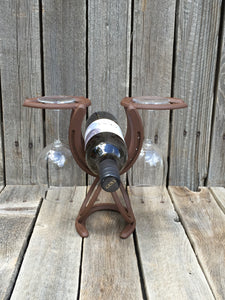 This gorgeous wine rack holds your two favorite wine glass and will hold a bottle of your favorite wine. The wine holder in this picture has a semi gloss clear finish, to keep it from rusting. The wine bottle goes between the two horse shoes and the wine glasses go on both sides of the wine bottle. The shoes a big enough to hold a medium sized wine bottle. This western piece will add just the right amount of a country feel to anyone's kitchen! You do have the option to have wine glasses sent along with your wine rack. The option to have or not to have wine glasses is in the variation section. If you have any questions about this item please message me, I would love to help.
************************************************************
Shipping:
For this wine rack I use a large flat rate shipping box. This ensures that it will get there in 1-3 days. If you have the wrong shipping address in your order, I am not reliable. If it comes back to me because you had the wrong address you will have to pay for shipping each time I have to mail it.